Welcome to Atlantis Health & Beauty Spa Tiptree.
A comprehensive gymnasium with beauty spa, large pool & jacuzzi, along with steam & sauna. Book treatments, classes or get in touch to join now.
Is a proud family run business that have created a friendly and unique Club, with a characteristic team of people, welcoming all ages and abilities to enjoy. Sean & Sue, Husband and wife Duo opened the doors to Atlantis in March 2005 and have made a thriving and enjoyable place for all to enjoy.
Offering a Comprehensive gymnasium with Cardio stations linked to satellite TV, personally branded selection of resistive equipment and a separate free weights area. An amazing Spa area complete with Pool, jacuzzi, sauna and steam to retreat and relax by yourself, with friends to take you away from the stresses of everyday life.
Whatever your age, or level we will ensure your experience at Atlantis is a special one.
- 22 cardio stations
- Resistive equipment
- Free weights area.
All new members receive a full health appraisal and tailor made personalised gym programme. Our instructors are constantly in attendance and reviews of your progress are ongoing.​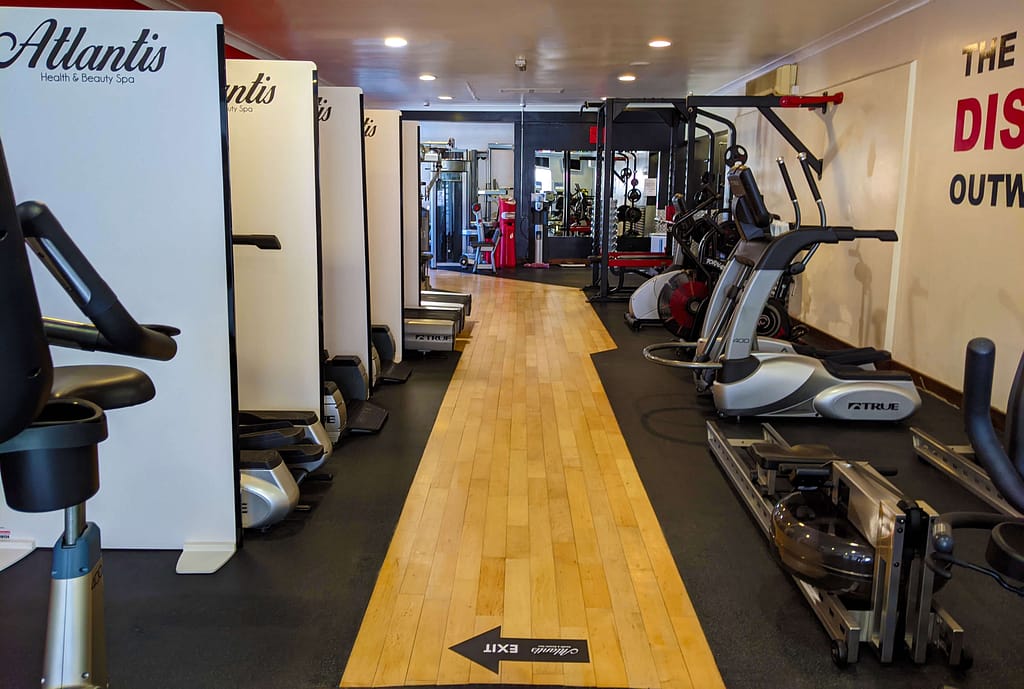 We are extremely proud to say Atlantis has the most unique, friendly characteristic team of people. The professional, personal and fun approach throughout enables us to care for each individuals needs. Whatever your age, or level we will ensure your experience at Atlantis is a special one.
What we offer
Come & get fit in our gym, join in with a fitness class. Enjoy a beauty or therapy treatment. Or simply relax in our spa.
Mon-Thurs: 6:30am – 10:00pm
Friday: 6:30am – 9:00pm
Saturday: 9:00am – 6:00pm
Sunday: 9:00am – 3:00pm
I love the community they are very friendly
Bryn
Being a member for nearly 20 years, I love the friendly & welcoming atmosphere.
Marnie
I have only been a member of Atlantis since May 2019, so relatively new compared to some people. I have really enjoyed using the pool & attending exercise classes. The members are all friendly, it's a relaxed atmosphere & and all the staff always welcoming. How does Sean remember all the members names? Was so glad when Atlantis opened again after lockdown & look forward to being a member of this great place for a long time to come
Jan
Its a lovely friendly well equipped gym with lots of great classes too, not forgetting the lovely pool area
Michelle
I love the swimming, the classes and the friendship that I've found there
Diane
I have been attending the gym since April 1987 when it was under the previous management and I carried on attending the gym when Sean and Sue became the new owners. So I'm now in my 34th year. I think the length of time I've been attending the gym says a lot of how much I enjoy coming to the gym. I especially like the family atmosphere and have over the years become good friends with the whole family and the people who work there who are very friendly. All the members I have met over these years are also very friendly and I do enjoy the banter we have and the relaxed atmosphere. I really missed the gym when it had to close during the Corona Virus lockdown and so happy when it opened and now keeping my fingers crossed that there will be no further closures due to the pandemic.
Alan White